KR Members at Maryland Legislative Agenda for Women Conference
The Kensington Rockville branch was a sponsor of the successful MLAW Fall Conference held in Baltimore on November 17, 2018.
After a warm welcome by University of Notre Dame of Maryland President Dr. Marylou Yam, Women's Caucus Chair Del. Sheree Sample Hughes kicked off the conference by highlighting the importance of legislation that supports women veterans and the elderly. The panel discussion that followed focused on protecting fundamental rights and featured Nikki Thompson, Job Opportunities Task Force; Jennie Guilfoyle, American Immigration Council; Krish Vignarajah, 2018 Maryland Gubernatorial Candidate; Robyn Elliott, Public Policy Partners; and Ariana Kelly, Maryland House of Delegates.
 After lunch, the highlight of the event was the presentation of 15 legislative proposals for the upcoming 2019 legislative session. AAUW member and Maryland State Senator Susan Lee presented AAUW-endorsed legislation to allow judges to enforce child support orders until children are 21 if they are enrolled in post-secondary college education or vocational training programs. MLAW members will vote on which proposals will become MLAW priorities this session. You can view summaries of the initiatives presented at the conference by copying and pasting this address into your web browser https://mdlegagendaforwomen.files.wordpress.com/2018/11/mlaw-2019-proposals.pdf 
January Branch Meeting at the Natural History Museum Hall of Human Origins
Members of the KR Branch met with Smithsonian Docent Dr. Jurate Landwehr at the Natural History Museum Hall of Human Origins earlier this month. We were treated to an immersive, interactive journey through 6 million years of scientific evidence for human origins and the stori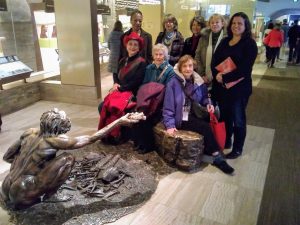 es of survival and extinction in our family tree during times of dramatic climate instability.
Members of the KR branch pause for a picture in front of one of the five bronze statues of early human species created by artist John Gurche on display at the Hall of Human Origins. Gurche used the latest forensic techniques, fossil discoveries, and decades of experience